"Butterflies dancing in colour"
Windowpanes in the 'Silent Space' of a nursing home
Waves and more waves are the main feature of Anne Marie van der Wilt's mosaics. Waves of colored glass and other natural materials that are somehow heartbreakingly comforting.
For the past thirty years, Anne Marie has been receiving commissions from all over the Netherlands to create mosaics for people confronting distress in hospitals, prisons, nursing homes, psychiatric institutions, churches, etc. Her main work is developing décor for 'silent spaces' where persons can retreat for meditation and contemplation. And, in the making of the mosaics, she undertakes a great deal of contemplation herself.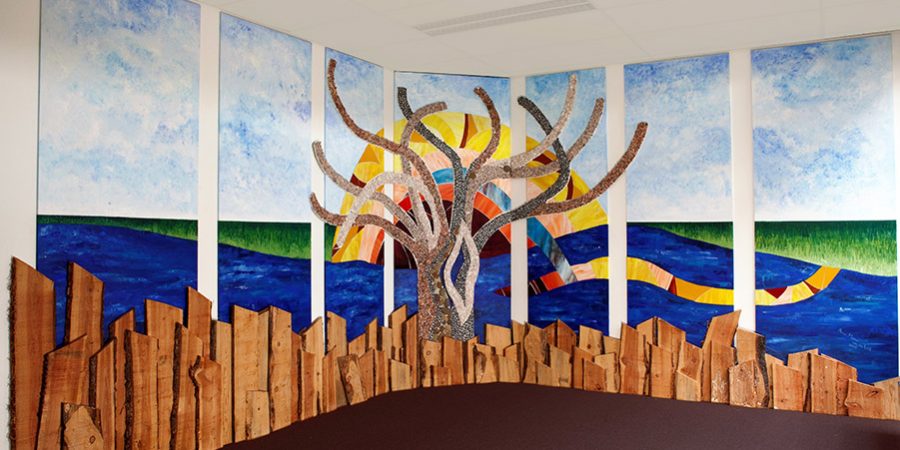 "A moment of comfort"
The 'quiet space' of a psychiatric institution in Geest, Haarlem
'Images can create psychic space for people to come to terms with the experience they are undergoing,' she says. 'For instance: people in prison say they have little contact with nature. So, in the mosaic I made for Rotterdam prison, I included as many natural materials as possible.
'Being committed to a psychiatric hospital is also a very heavy experience, one that arouses feelings of confusion, despair, powerlessness, loneliness and revolt. So, for an institution in Haarlem, I created a mosaic featuring blue and green, the colours of space, perspective, tranquility and insight. I set a tree in the center as a symbol of human life itself, with roots and branches reaching out towards the light, and movement. No tree is exactly the same as another. The water is a source of life but is also a symbol of chaos: it can be threatening, you can drown in it.'

Three icons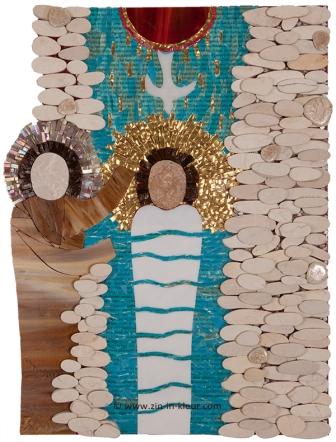 Baptism in Jordan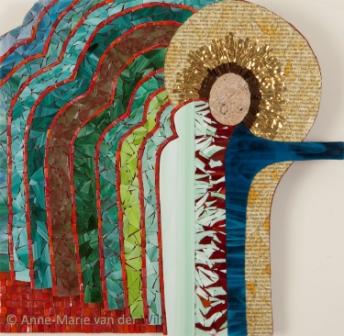 Mary and Martha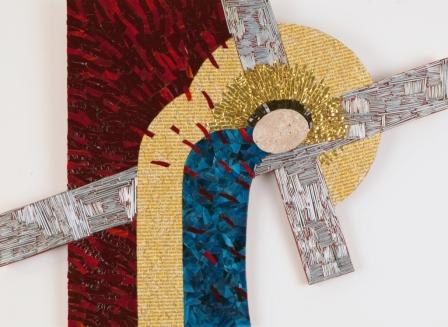 Bearing the cross

Anne Marie herself is a construct of art and theology. She studied both fields at the Vrij University in Amsterdam, is married to a pastor, delivers sermons in various churches and makes mosaics with religious themes. Like mosaic artists who traditionally worked in churches, her principal medium is stained glass, but she doesn't use lead to hold the pieces together, she prefers professional glue. In between commissions, she devotes herself to her 'own work', creating what she calls 'contemporary icons' for Christian worship, using a variety of materials. 'Icons aren't meant to be realistic,' she says. 'They offer a symbolic representation to invite the viewer to look through the icon, so they guide viewers to the source of the experience that lies within it.'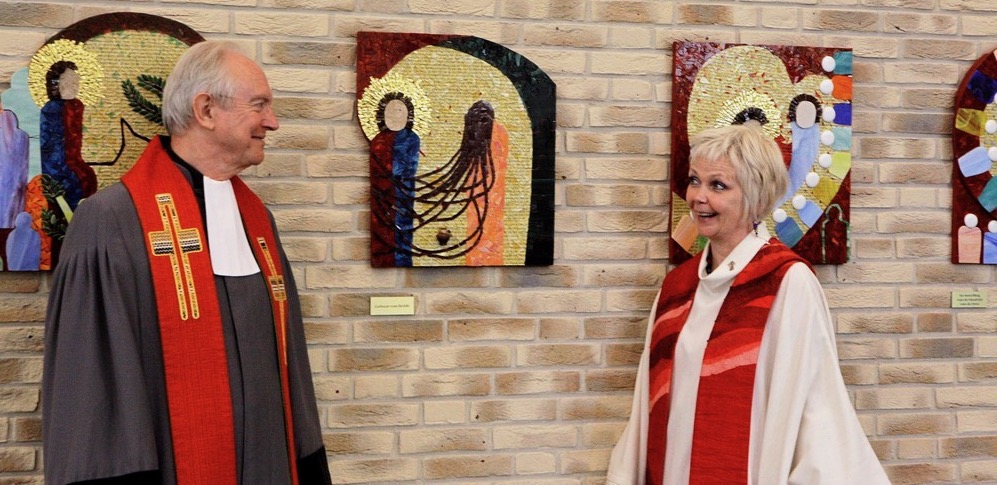 With Father Joost de Lange at the installation of her Stations of the Cross in Ommoord
Last September, a ceremony was held at the Open Hof church in Ommoord to install icons she made as Stations of the Cross. She is also a prolific writer. In June 2022, her second book on her mosaic work, focused on the icons, will be launched at a church in Rotterdam.
She also runs mosaic workshops at her intricately decorated home and atelier in the Drenthe countryside. During the corona lockdown she kept herself busy with decorating the house and now passersby regularly ring her doorbell to thank her for enhancing the countryside.
'Color can help us give meaning to our lives,' she says. 'It's a gift from God and we should enjoy it. I've experienced the power of color in periods of great loss and pain. It helped to reduce the darkness.'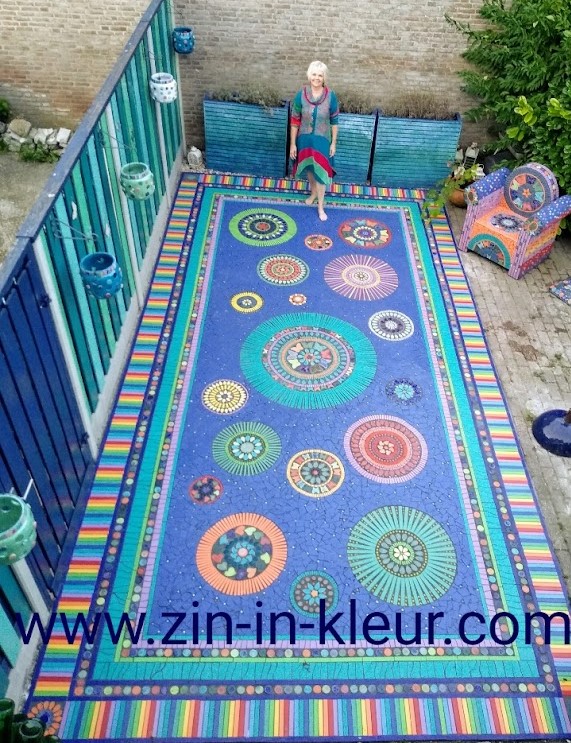 Her courtyard in Drenthe
The photos of her house on her website are a delightful gift to visitors. Have a look at: www.zin-in-Kleur.nl (A taste for colour) or her youtube channel Kunst als Proost (Art as Comfort).
And do contact us if you want us to feature your own work on this blog at info@thecraftkit.com