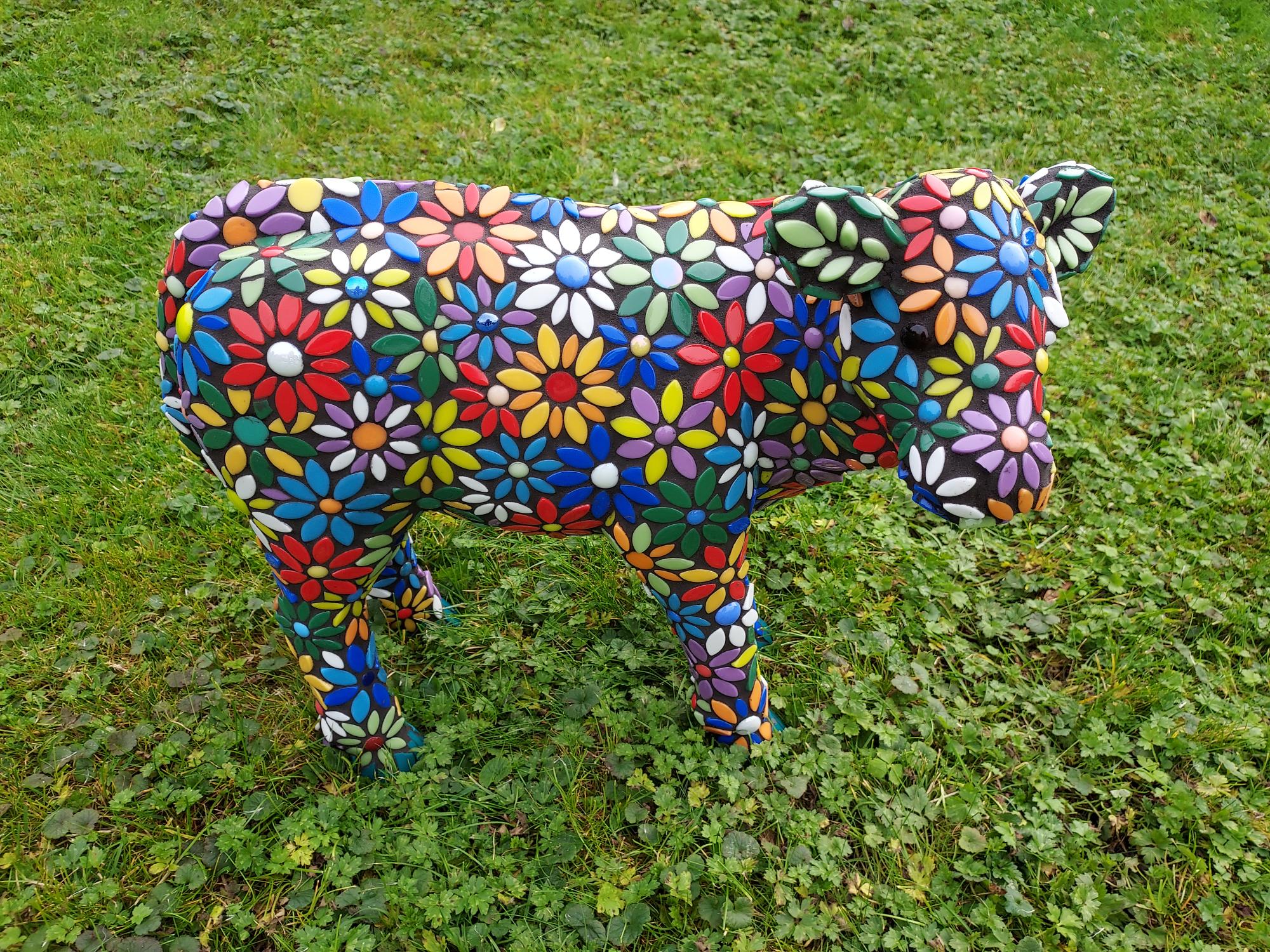 "As long as we do it together…"
MOSAIC MAKING COMMUNITY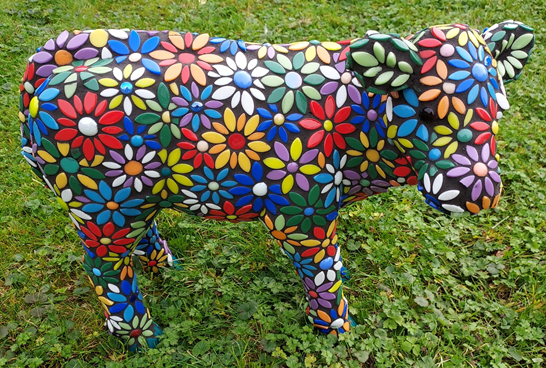 Coming Together Around A Cow
We were moo-ved to receive a photo of a Flower Power Cow one of our customers made, so we showed it in our monthly newsletter. Making the cow spontaneously drew in friends and family, its maker, Katinka, said in a note.
"…I was inspired by the colorful painted cows that are in a lot of tourist shops. Finally found a little cow and went to the Craft Kit for some advice and a lot of tiles. It took some time but my mosaic-cow is finished! And I love it! A lot of guests to our house saw my project and wanted to design one flower for the cow. So it became a "family and friends" project.
The lady of the craft kit advised me to use dark grout. I was pretty nervous about it, but so happy with the result! Hope to find another animal soon, so I can start a new project." -Katinka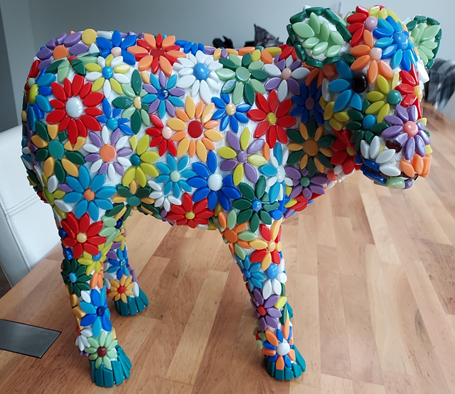 Katinka's cow before she applied dark grout
SOCIAL SOFAS
A chat a day keeps the doctor away
Cabaretier Karin Bruer was outraged when she saw the local government removing public benches in the Dutch province of Tilburg. 'People feel safer if they know their neighbors,' she says. 'But if there are no public places to have a chat, the community breaks down.'She started replacing the benches with heavy cement ones covered in mosaic tiles and launched a project called 'Social Sofa'. This was the start of a journey that was to take her to Afghanistan, Iraq, Argentina, South Africa, Andora, China, Belfast and all over the Netherlands.
Social Sofa encourages people in different communities to design (or ask them to design) and make their own mosaic bench. The company supplies them with training and materials and assists in whatever way they need. The long, painstaking process of cutting and sticking tiles to construct the mosaic draws in participants of every color, age-group, creed and gender. People in the area get to know each other. Some even come just to bring coffee and snacks for the amateur tilers.
'When you spend hours together sticking tiles, you get to remember each others' names,' one mosaicer said in this documentary broadcast on Dutch TV. www.youtube.com/watch?v=hN-pbH1RY-I&t=10s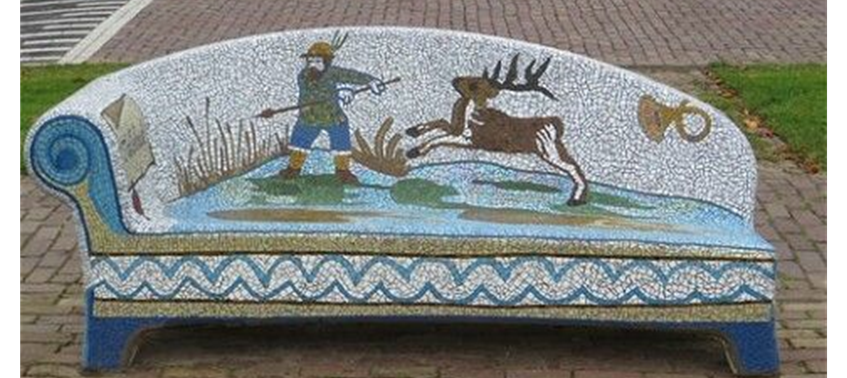 The movement has spread like wildfire. Karin now also has a paid workforce made up of people who are regarded as 'unemployable' because they have physical or psychological handicaps. Sometimes the work itself cures the handicap, as was revealed in the television documentary. Groups have made a 'Coming out' sofa for LBGTI people, a Local Heroes sofa, a memorial sofa for a person killed in a tragic plane crash, a library sofa, a Grand Hotel sofa in Amsterdam, and many other unique objects scattered around the world.
Karin has been hired by the government of Afghanistan to revive the mosaic craft amongst women so they can develop skills. She was invited to build a mosaic wall in Iraq and give a TedX talk in Maastricht. In 2012, the city of Tilburg gifted the Chinese city of Changzou a social sofa during a trade mission and promised to follow up with social eggs and social baubles, some of the many new products developed by Karin's company.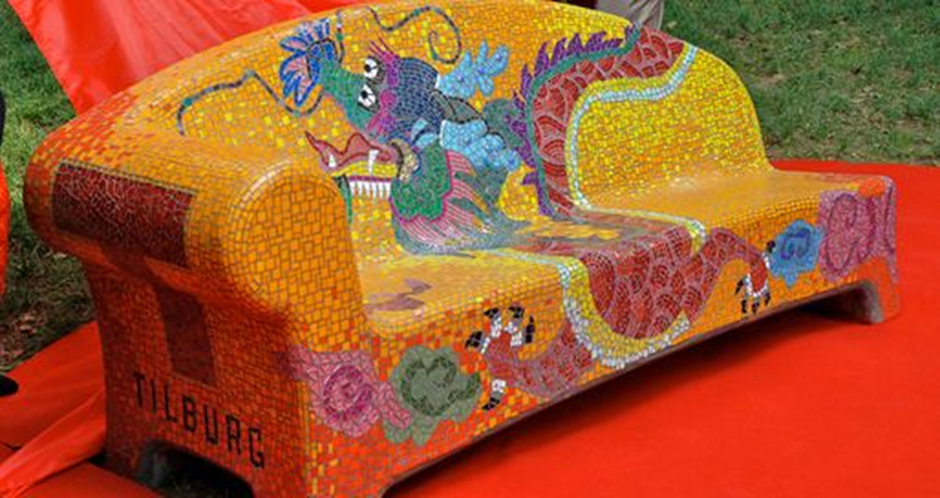 Social sofa in Changzou, China
Do you think your community could use a social sofa? Contact https://www.socialsofa.com